EC Piles® are premium quality reinforced concrete piles manufactured to the highest quality standards by TechnoIntan Holding Sdn Bhd, an ISO 9001:2000 certified company renowned for quality, technical expertise and service excellence. EC Piles is today the preferred choice for the infrastructure and construction industry.
Product & Application
EC Piles® are precast reinforced concrete piles designed and produced conforming to BS8004-1986 standard. Durable and simple to install, EC Piles® comes in many sizes ranging from 125mm x 125mm to 400mm x 400mm measurements. EC Piles® are suitable for building construction works and all civil engineering projects.
Material Specifications

| | | |
| --- | --- | --- |
| Constituent Materials |   |   |
| Cement | MS | 522 ordinary Portland cement |
| Steel Reinforcement | BS | 4449/MS146 |
| Aggregates | BS | 882/MS 29 mining sand/20mm aggregates |
| Admixture | BS | 5075/MS 922 super plasticizer |
| Cold Drawn Wire | BS | 4482/MS 144 lateral reinforcement stirrup |
| Mild steel plate | BS | EN 10137-1 End plate (Grade 43A) |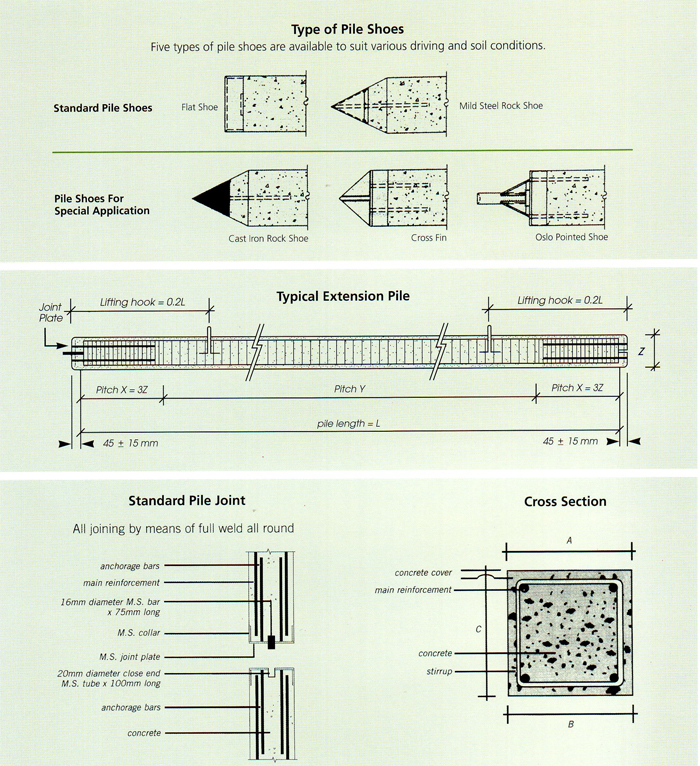 Technical Calculations
Capacity of EC Piles in accodance to standard specified.
Safe working load = 0.275fcu *Ac + fsc * As
where,
    fcu = characteristic strength of concrete at 28 days (45N/mm2)
    Ac = area of concrete
    As = area of main reinforcement
    fsc = 175N/mm2 for high yield steel